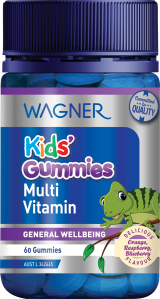 Features
– Contains vitamin B12, niacin and biotin that contribute to healthy nervous system.
– Support healthy immune system function.
– Also supports healthy skin.
– Available in great tasting orange, raspberry and blueberry flavoured gummies.
Key selling points
This formula:
– Contains vitamins that assist in maintaining energy levels
– Contains nutrients that supports healthy nervous system
– Supports healthy muscles and bones
– Contains Vitamin A that supports eye health
Precautions and contra-indications:
– Always read the label; take only as directed.
– Vitamin supplements should not replace a balanced diet.
– Not to be used in children under two years of age without medical advice.
Recommended Dosage:
Children 2-8 years: 2 gummies per day.
Children 8+ years: 3 gummies per day.
Or as directed by your healthcare professional.
Formulated without:
Artificial sweeteners, wheat, milk, egg.
Each Gummy contains:
Vitamin A 200 micrograms
Vitamin E 6 mg
Vitamin D 2.5 microgram
Niacinamide 8 mg
Pyridoxine Hydrochloride 700 microgram
Biotin 25 microgram
Folic Acid 100 microgram
Vitamin B12 1.25 microgram
Ascorbic Acid 40 mg
Iodine 22.5 microgram
Zinc 1.5mg