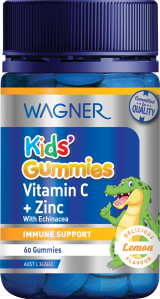 Features
– In children, Vitamin C and Zinc are important for the health and function of the immune system.
– Vitamin C and Zinc also support in wound healing.
– Available in great tasting lemon flavoured gummies.
Key selling points
This formula:
– Vitamin C and Zinc are great for maintenance of healthy Immune system
– With added Echinacea
– Contains Vitamin C which is an Antioxidant
– Daily intake at recommended dose might prevent deficiency of Vitamin C and Zinc
– Assists in maintenance of general health and well being
Precautions and contra-indications:
– Always read the label; take only as directed.
– Vitamin supplements should not replace a balanced diet.
– Not to be used in children under two years of age without medical advice.
Formulated without:
– Artificial sweeteners, wheat, milk, egg.
Recommended Dosage:
Children 2-4 years: 2 gummies per day.
Children 4+ years: 3-4 gummies per day.
Or as directed by your healthcare professional.
Each Gummy contains:
Ascorbic acid (Vitamin C) 20 mg
Zinc 2.25 mg
Echinacea 1 mg
equivalent to 45mg of fresh herb