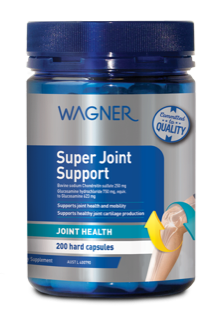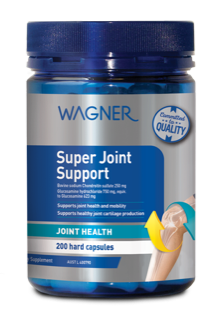 This formula contains a combination of Glucosamine and Chondroitin to support joint health. Both Glucosamine and Chondroitin are found naturally in the body and are key components of cartilage and synovial fluid. Glucosamine supports joint health, joint mobility and flexibility. Chondroitin supports joint health and supports healthy joint cartilage production. Wagner Super Joint Support is supplied in the convenience of capsules.
features
This formula:
■ Contains Glucosamine to support joint health, joint mobility and flexibility
■ Contains Chondroitin to support healthy joint cartilage production
■ Supports general health and wellbeing
Recommended Adult Dosage:
Take 3-4 hard capsules with water daily. Or as directed by your healthcare professional.
Precautions and contra-indications:
WARNING: Contains crustacean products. If symptoms persist, seek the advice of a healthcare professional. Always read the label. Take only as directed. Dietary supplements can only be of assistance if dietary intake is inadequate. If taking prescription medication or if in doubt, consult your healthcare professional.
Contains: Crustacean products and sulfites.
Formulated without:
Gluten, wheat, yeast, dairy products, egg, artificial flavours, artificial sweeteners.
Active Ingredients:
Each hard capsule contains:
Bovine sodium Chondroitin sulfate 250 mg
Glucosamine hydrochloride 750 mg
equiv. to Glucosamine 623 mg
Contains encapsulating aids.
Frequently asked questions:
Q1 How does glucosamine support joint health?
A1 Glucosamine is naturally produced in the body, and
is found in the fluid around the joints. It is utilised for
the synthesis of glycosaminoglycans (GAGs). GAGs are
components of joint tissue, such as cartilage, tendons,
ligaments and synovial fluid; and are building blocks
of cartilage.2
Research shows that glucosamine may reduce collagen
breakdown, slowing down the wear and tear of the
joint tissue3,4 and help reduce inflammation in the joint.5
Q2 What are the benefits of Chondroitin?
A2 Chondroitin sulfate is found naturally in the body.
Chondroitin sulfate is a component of cartilage and
synovial fluid. It gives cartilage its elasticity by helping
it to retain water.6 Studies have also found that chondroitin
can reduce the activity of enzymes and substances that
break down collagen in joints, that it has anti-inflammatory
properties and can stimulate repair mechanisms within
the joint.7,8
Research has shown that a combination of chondroitin
and glucosamine is effective in reducing inflammation
and cartilage breakdown, as well as to help improve joint
pain in arthritis.9,10
Q3 How long will it take before I notice results?
A3 Clinical research has shown that it may take up to
12 weeks before results are noticeable. For this reason,
it may be beneficial to take Wagner Turmeric Max 900mg
alongside Wagner Super Joint Support to help reduce joint
inflammation until joint pain improves. Once joint pain is
managed, you can continue with Wagner Super Joint Support
on its own.